Kettleby Valley is a traditional summer day camp in the heart of York Region. We are situated on 60 private acres with forests, fields and waterfront. Our day camp offers the amenities of a northern summer camp without the three hour drive. Our day camp hosts approximately 240 campers each week throughout July and August. Many of these children grow up with us here, choosing to return to Kettleby Valley over other day camps in the area. Our camp is large enough to have the energy and enthusiasm to make kids feel like they're part of something special. Yet we are small enough to be able to get to know and understand each individual child. We understand that there is a connection between independence and confidence. Our approach to day camp aims to leverage this connection. We provide the help and support that each camper needs, while giving them the room to develop a healthy sense of independence. Safety is a priority for our day camp. Kettleby Valley is an accredited member of the Ontario Camps Association. The OCA provides strict youth camps standards and guidelines that Kettleby Valley meets.
SUMMER CAMP ACTIVITIES
Canoeing
Campers work towards their Ontario Recreational Canoeing Kayaking (ORCKA) levels at the pond. In partners, our older campers work together to complete specific strokes and canoeing skills. Campers also explore the pond area, while participating in a variety of games and challenges. Campers learn the importance of water safety while developing the confidence to maneuver their canoe.
High Ropes Course
Our Campers from Grade 4 to Grade 8 get to experience our High Ropes Course. The High Ropes Course is where team and individual elements require balance and communication between group members. Our elements, such as the dangle-a-maze, encourage group success over individual success as campers rely on each other to complete each level. Our teeter-totter element challenges campers to overcome their fear of heights while communicating with a partner to maintain balance.
Low Ropes Course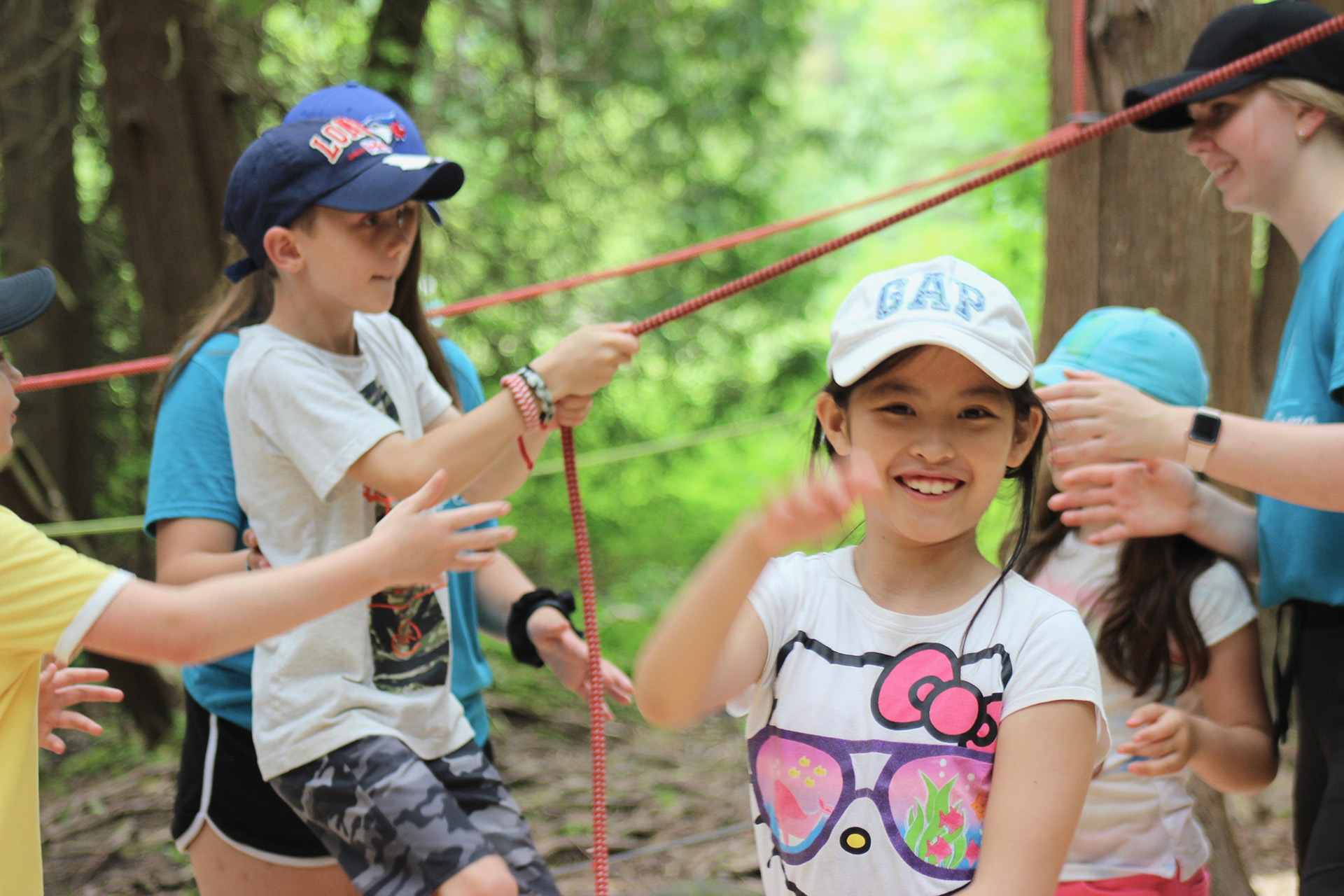 Our Campers from JK to Grade 3 experience our Low Ropes Course where communication, co-operation, and team work are reinforced. Campers gain confidence within themselves, and learn to trust others for support and encouragement
Archery & Cross Bow
These activities require a great deal of coordination, concentration and a steady aim. Campers learn how to properly hold and load a bow, and gain an appreciation for being patient and positive. Our older campers, in addition to archery, learn the skill of properly loading and shooting a crossbow. For both activities, participants enjoy the pursuit of achieving a bull's eye and having their success announced at the end of the day!
Climbing Wall
Each Camper has the opportunity to challenge their limits, while helping others in their group to do the same. Our Climbing Wall offers three different climbs of varying degrees of difficulty.
Fun With...
In their day groups, campers get active while learning the importance of sportsmanship. These co-operative games help to 'break the ice', as well as build leadership and communication skills. Campers have the opportunity to encourage and support their group members in a variety of fun and creative games.
Bouldering
The latest addition to our climbing activities allow participants to develop their climbing skills without the fear that can be associated with height. On average, participants are only a few feet from the mats and with freedom from ropes, they are able to create their own routes or try out some of our challenging predetermined ones. Bouldering is where Campers learn the skills and techniques associated with Climbing before they get to our Climbing Wall.
Drama
Improvisation and imagination are important components to this activity. Campers will learn to feel comfortable performing in front of others while having fun! Drama provides a safe environment for campers to experiment, imagine, and play with their fellow group members. Working on a stage, Campers draw creativity from both a dress-up trunk filled with props and from their imaginations.
Arts & Crafts
Campers develop a sense of creativity and take pride in the results of their efforts. They work on a variety of different arts & crafts that they can bring home with them by the end of the week. Campers learn the appropriate skills to create final pieces, and take the time to experiment with a variety of materials. Campers weave bracelets, tye-dye shirts, experiment with water colours and paints, sketch the nature around them, make beanie buddies and so much more!
Swimming
Campers are scheduled to visit to one of our pools each day. Certified lifeguards supervise our campers while they are swimming. Our change rooms are equipped with stalls for privacy. Swim Period is a great time for cooling off, playing games, and having fun!
TRANSPORTATION
Getting to and from day camps each day requires a great deal of coordination and organization.
Our buses are supervised by our Bus Counsellors to ensure the best possible care. The bus ride is an important part of the day camp culture. We have a different bus theme each week and activities such as, crafts, songs and decorating the bus take place during the traveling time.
Transportation Options
Getting to and from day camps each day requires a great deal of coordination and organization. Our buses pick up and drop off the majority of our day campers from their home. This is a great option for our Aurora, Newmarket and Vaughan day camp families. We offer the same service for our Richmond Hill day camp children as well. Our staff supervise each ride to make sure campers get on and off the bus safely. Our staff always have crafts, games and songs ready to go so that the campers enjoy the trip. Our first camper pick up is between 7:50 am and 8:00 am, depending on the area. Buses arrive at camp around 9:00 am and, after a full day of camp activities, depart at 4:00 pm. Our bus service is a great option, especially when coming from communities further away such as our Richmond Hill day camp children. For those who require extended hours, we also have the option of dropping off and picking up campers at Kettleby Valley. This is a great option for people who live close by like our Newmarket day camp families. Parents can drop off as early as 7:30 am and pick up as late as 5:30 pm. Finally, for campers from the Markham area, we offer a day camp bus from the TD offices at 3500 Steeles Avenue East.
OUR DAY CAMP STAFF
Having a great day camp counsellor makes all the difference. Many of our staff have grown up at Kettleby Valley and know first had what it's like to be a new camper here.
Our staff understand how to make everyone feel welcome and important. Making connections with each child is a skill we focus on during our mandatory staff training sessions prior to the beginning of the season. Our staff are also taught how to maintain control over their group without sacrificing the fun and enjoyment of the experience. As the campers travel from one activity to another, they are instructed by trained and certified activity staff. Whenever your child is taking part in swimming, they are always supervised by certified lifeguards. Canoe instructors also possess their lifeguarding certification as well as a Canoe Instructors certification. Our activity staff work hard to help each camper at their activity. They understand the enjoyment and fulfilment that campers feel when they develop their skills in a fun and safe environment.